Best Faucet Suppliers and Brands in the World
A comprehensive list of the best faucet brands and leading suppliers on the market today including the things you need to know about the most popular options.
Choosing the best faucet brand is a challenge. With numerous suppliers and brands available today, you'll have a very tough time picking the best one. Have you ever asked yourself, what are the best faucet brands and suppliers? Well, you are in the right place, we can help you with that. 
Faucets are probably one of the most essential, yet undervalued inventions of our time. Next to that are kitchen faucets, and bathroom faucets have become our least priority when choosing a new home. Our eyes are more focused on the bigger spaces like the bedrooms, hallways, and even living rooms. 
Fortunately, everything is continually changing as time goes by, people pay attention to faucets like ever before. People are beginning to seek personalized and even customized faucets for their homes that will fit to their needs, style, and convenience.
Add a header to begin generating the table of contents
What is a Faucet used for and Why should you Care?
A faucet is a device that is used to control the flow of water in a sink, bathtub, or other vessels. It has an attached handle, and a movable nozzle called a spout. The spout may be either rigid or flexible.
Faucets are not merely just electrical items. Depending on the product quality of the faucet you choose, it may or may not help increase the amount and efficiency of your water consumption. In terms of home designing, kitchen faucet and bathroom faucet act as the aesthetic asset of the sinks, bathtubs, and other vessels.
A Brief History of Faucets
Best Faucet Suppliers and Brands
Furthermore, most people have never thought about their life without a faucet or what it's like without it. Modern and sleek fixtures can be seen in the modern claw-foot bathtub models of the old bathroom. The usage of faucet dates far beyond that though, and to a long time ago. Both pipes and piping systems had been used since 1100 BC.
In ancient times it was used for bathing and to supply water to fountains. Roman baths were commonly equipped with faucets, but communal showers were common at the time. The old bathroom furniture and bathroom fixtures were simple and unlike the modern designs that we have today. 
Nowadays, kitchen faucets are produced by many manufacturers for quality and designs combined with advanced technology. These top faucet brands are striving to be the best brand, most innovative, and most stylish faucets. Newly advanced technology is also continually being developed to simplify and innovate our ways of living. 
There are 70 different brands of kitchen faucet competing on the market today. These faucet suppliers provide a variety and different quality products. Some top faucet brands specialize in just one type of faucet while others focus on all types. Some top faucet brands offer a lifetime warranty on their products while others do not provide any warranty at all.
There are many kitchens faucet and bath faucet suppliers in the world, you have a variety of choices that will suit your need, style and convenience, it's just up to you to choose the best one for you. Understanding which faucet brand among the most popular options has a good reputation will largely help you in making a good decision.  
Although there are many different brands in this world, we are here to help you narrow down the options and make your buying decision a little easier. To help you with that, here is a comprehensive list of the best faucet brand we compiled: (Not ranked in any order)
Danze integrated with Gerber Plumbing Fixtures in 2018 with support from parent Globe Union Industrial Corporation and in. Based in Woodridge, Illinois, Danze products are sold by several retailers and online.
One of the best kitchen faucet brands, Danze brings high-end luxury style to the kitchen and bathroom, using high-quality materials for its faucets including a steel construction with a dripless ceramic disc valve. Pulldown and pullout spray, coupled with one-hand operation, ensures easy operation in the kitchen. Danze kitchen faucet's latest model features are snapback and articulated pieces offered in a very reasonable price range.  
Kraus has remained one of the most popular faucet brands since 2007 with a global market presence. The company based in Port Washington, New York is committed to improving everyday lifestyles by providing kitchen faucets incorporating high grade quality materials with modern designs as well as modern functions. 
Krauss brand strives to produce high-quality, functional, and efficient kitchen faucets and bathroom faucets. Their products are sold at a good price range in large-box retailers and on e-commerce websites.  
Masco purchased the Kraus brand in December 2020 as a part of Delta Faucet Company. The company is currently owned by Masco.
Kohler maintains a renowned reputation for producing exceptional faucets at a wide variety of buying options. Price range choices including the economical option or expensive luxury option. Types of kohler bathroom faucets. Their single handle faucets are distinctive, and their two handle faucets are long-lasting. Kohler's kitchen faucet and bathroom faucet selection reflects traditional and modern styles through design, craftsmanship, and innovation. It also have Kohler bathroom faucet repair.
One of the popular faucet brands, Grohe is known for German flawless craftsmanship, modern aesthetic design, industry-leading advanced technology, and innovative materials. The Grohe brand offers a large assortment of faucets from affordable models to high-tech, expensive choices. Their single handle faucet and two handle faucet latest products feature a smart controller push button for both off and hands-free usage and smart water-saving technology modelled through extensive research. In addition, the ball valves regulate water flow from an efficient Eco Joy mode to a fully flowing mode. 
Being one of the best faucet brands, in 150 years American Standard (formerly Standard sanitary manufacturer) has developed high quality kitchen faucets. The company believes in good quality living, innovation, sanitation, and health. American Standard adheres primarily to a commitment to environmental protection. 
American standard's single handle faucet and two handle faucet styles feature instant filtered water, sleek styling, and easy filter replacement for a clean filtered drinking water.
As one of the most popular faucet brands, Rohl faucets caters the most luxurious and most expensive kitchen and bathroom faucet collections. Rohl faucets present modern sophistication beautifully fused with traditional styles. Aesthetically designed and forged by hand using innovative techniques, these kitchen and bath faucets are marked as one of the finest in the market.
Hansgrohe is one of the most popular faucet brands for its high-end products with elegant designs and unique technology due to extensive research. In 1906, Germany Hansgrohe began making tin bathtubs for popular homes, with the new popular private baths. Currently, Hansgrohe manufactures its product lines in France, China, and America. The company has its US headquarters located in Alpharetta Georgia. German engineers enjoy an impressive reputation and Hansgrohe is no exception.
Hansgrohe's kitchen faucet is slim and perfect for a minimalist design. Their kitchen faucet and bathroom faucet price range are reasonable according to product style, design, and functionality.
Pfister is one of the well-known brands famous for its products' incomparable reliability. This company offers an extensive choice of innovative kitchen faucets from a good price range options from affordable models to high end faucet brands designs. It is suitable whether shopping for budgets or for those that enjoy extravagance. 
You can pick from Pfister's range of kitchen faucets from pull-out and pull-down sprayer models to faucets with single handle or double handle. Pfister's kitchen faucet latest model includes touchless activations along with integrated filtration for a cleaner filtered drinking water. Promoting water conservation makes Pfister a standard sanitary manufacturing company among the popular kitchen faucet brands.
Moen has built a long history of producing reliable and quality faucets throughout the country and offers a wide variety of styles and types of faucets at both low and high price range. The company is one of the top kitchen faucet brands. Moen's tradition in solving plumbing problems and other plumbing fixtures began with Al Moen's 1937 invention of a faucet with a single hand. Moen is currently headquartered in Ohio. Moen offers kitchen faucets and bathroom faucets that feature new and advanced touchless technology.
Moen's sip beverage faucets go well for any decorating style, either modern or traditional. It features Sip style, single handle with a high arc rotating spout and there is an option to add a filtration system for clean drinking water. It's much easier to add a dedicated cold water tap to your kitchen with Moen Sip Beverage Faucets.
As one of the well-known brands, Delta luxury faucets company demonstrates an emphasis on water conservation and efficient use of energy in all its designs. Thoughtfully designed, Delta luxury faucets come with chrome, brushed nickel, or matte black finish. Delta faucet company has diversified its product by supplying touchless faucet delta, kitchen faucets, bath faucets, and other plumbing fixtures that are reliable to many consumers across the globe offering a reasonable price range. They offer bathroom products such as pull-out sprayers, towel bars, and other plumbing products that are made of high-quality products.
Delta faucets set trendy styles these days. Due to its newest technology, it has caught the attention of the millennial generation. Besides Delta faucets, their bathroom accessories are astonishing as well, it goes well with any different kitchen fixture and bathroom fixture styles and designs of your home. 
The Importance of Choosing the Right Faucet for your Home
Best Faucet Suppliers and Brands
Faucets are incredibly hardworking items that we often use in everyday life. This trusted fixture needs to look safe, efficient, leakproof, easily operated, stylish, and complement the kitchen and bathroom décor.
Whether you're preparing for a major renovation in your home or choosing a new home: These are the vital factors you have to consider in helping you choose the right faucet fit for your home:
There are many different kitchen faucet and bathroom faucet styles to choose from, including modern and traditional. It's important to seek products from the best kitchen faucet brands that provide unique design and style that will satisfy your preference and personal taste.  
Premium faucets are expensive, especially those that come from the best kitchen faucet brands, since these are usually manufactured at the finest standards combined with modern appeal and stylish design. Those luxurious best faucet brands offer excellent quality products at competitive prices.
Faucets that can be personalized and customized will add a much more unique design into your home. In selecting the style of faucet, it is vital to follow your own preferred sense of style. The best kitchen faucets are those that incorporate your kitchen sinks and kitchen fixtures.
Consider how much water and water flow pressure you want from your faucet. Low-pressure faucets are more efficient, but they don't provide enough force for some tasks like cleaning vegetables or washing dishes in a sink full of water. High-pressure faucets need more energy than low-pressure ones because they use more water and heavier water flow. On the other hand, high-pressure faucets can also be useful for tasks that require more force, like scrubbing pots and pans or filling large pots with boiling water.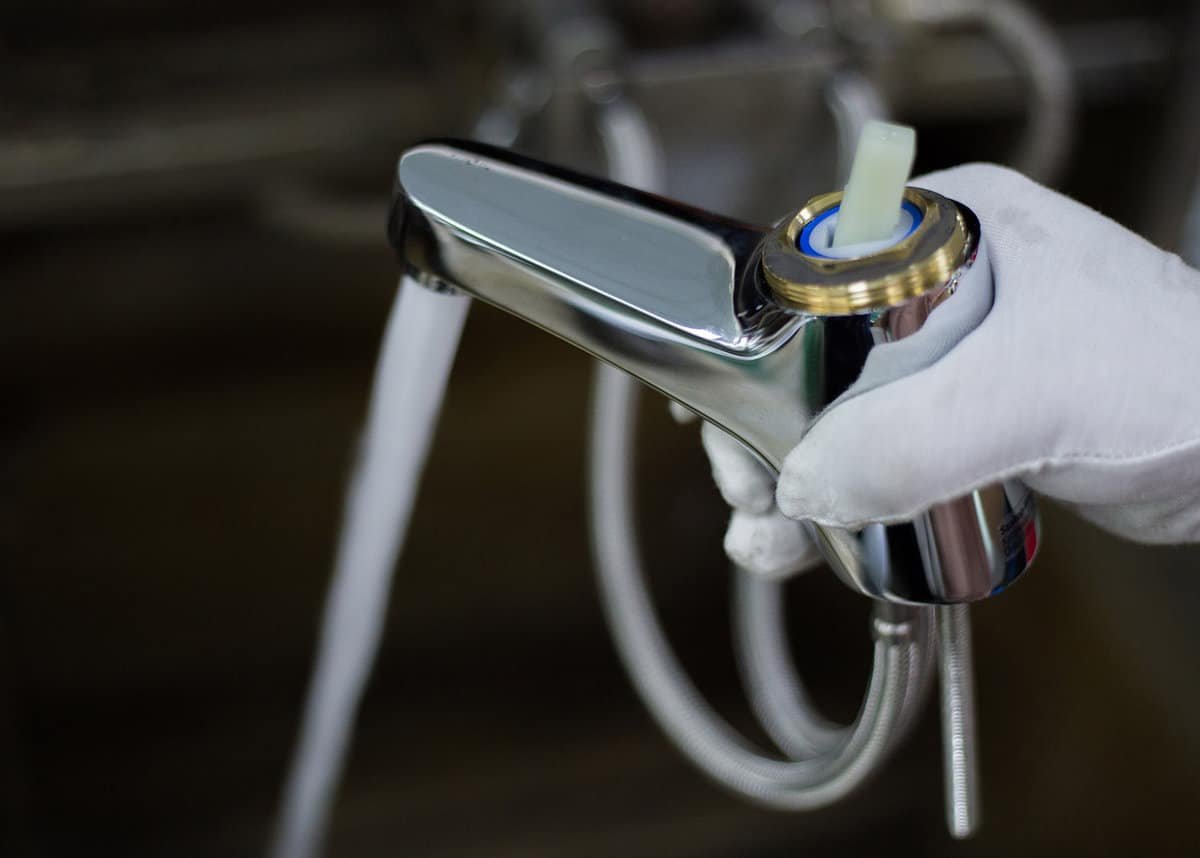 You must consider its functionality other than its premium quality. It is very necessary to examine If it will make the job much more efficient and easier. The best brand of faucets for large families and households should be designed for multitasking, styles that feature matching bathroom accessories, shower systems, shower spray, spray hose, shower doors, soap dispenser, and other brands personalized options for all families. 
It is very important to think about how efficient the product is at doing its job and ensuring that it will last if possible before needing replacement or maintenance.
Considering the price range is highly recommended as well, besides determining the quality of the product. You must choose which of the brands that caters your needs and suits your style that aligns with your budget. It is never wrong to think about the prices alongside the quality. As a matter of fact, wise consumers highly give importance to the value of their money.
It is highly important to consider kitchen faucet quality. A good quality faucet will be made from high-quality materials that are durable and efficient in the way they flow water. A well-made faucet lengthens the life of your entire sink and makes a great investment to make for your kitchen.
To sum it all up, selecting the best faucet brand and supplier is never easy. With all those great choices from top faucet brands, it's crucial to choose the right fit for your home. The most essential thing is to find a faucet that will stay leak-proof for a very long time. That's where choosing the right faucet brand for your home can make a big difference. It can help you save water, time, and most importantly, money.
If you're looking for an affordable, stylish and functional faucet supplier, try FaucetU. Their company strives to provide supreme convenience to their customers with the finest high-quality products available in the market today. FaucetU is a global faucet supply chain from China. Competitively, in the market for 26 years, they offer impressive faucet models, bathroom faucets, efficient kitchen faucets from design to delivery at an affordable price. 
FaucetU offers high quality faucets that exceed expectations and meet people's needs for living space, including bathtubs, showers, sinks and faucets. They have set high standards in terms of stylish design and modern technology, building the first global faucet supply chain platform with high-quality products and services at an affordable price range. For more information, kindly visit them at https://faucetu.com/.