CUPC Faucet Vs WaterMark Faucet | Which Country Need
Canadian Uniform Plumbing Code (CUPC) is the designated Canadian national standard. They create these codes to give customers access to hygienic and secure plumbing systems, including faucets. Both numerous home and commercial construction projects typically call for the certification of particular components.
Faucets by Watermark Designs are designed and manufactured in Brooklyn, New York. Founded in 2000, the company has grown rapidly thanks to the widespread acclaim received by its one-of-a-kind designs, some of which have won prestigious awards.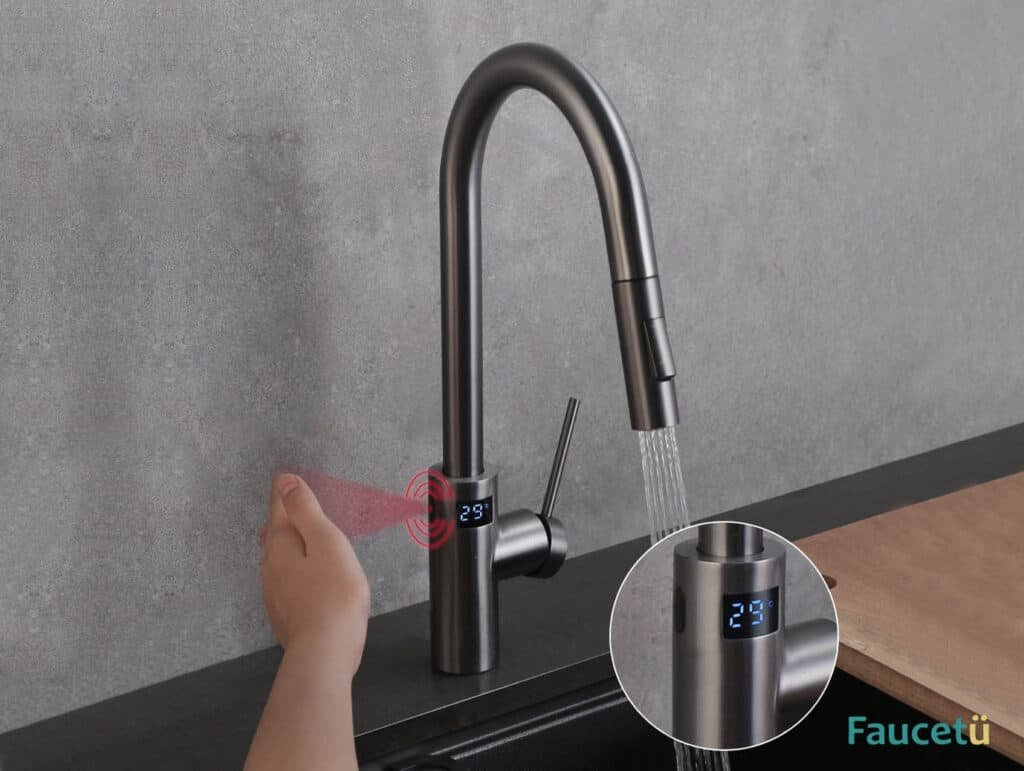 This post includes information that you need to know about CUPC and WaterMark faucets. It gives you a better view of why you need to choose faucets with CUPC certification or why you have to choose WaterMark Faucets.
Add a header to begin generating the table of contents
Why Choose Faucets with CUPC Mark?
Because it represents seventy or more years of experience in the certification, the CUPC mark is highly sought after by manufacturers. Construction companies look for the symbol to avoid unnecessary delays on the job site and know that anything they use will be accepted without question.
The mark is well-liked by the AHC because it allows them to quickly and easily identify products that have met all applicable requirements for legal sale and usage in the jurisdiction. The symbol inspires confidence in buyers since it guarantees that the plumbing in their house, school, or workplace meets the required specifications.
There are other conformance marks available, of course. Nevertheless, none are more desired, sought after, appreciated, or trusted than CUPC shield.
The benefits of Faucetu recognition go far beyond, setting us apart from a grocery store product with the "name brand." These advantages can be passed on to whoever needs them, from the producer to the contractor to the inspector and finally to consumers. Thanks to a mark that performs reliably at every stage of the supply chain. In each case, the CUPC seal of approval adds value.
This did not occur by chance. As a result of years of hard work, Faucetu has earned widespread credibility for our standards-based identifiers. Because it is the only plumbing code designated as an American National Standard, the Uniform Plumbing Code® serves as the foundation for plumbing standards that protect more than half of the world's population.
Our cUPC mark certifies conformity with this code. Products of less merit have tried to get certified numerous times but have been rejected each time. The same goes for businesses that used to be compliant but have since stopped being so.
Faucets by Watermark Designs are designed and manufactured in Brooklyn. Its rapid expansion since its foundation in 2000 can be directly attributed to the widespread acclaim received by its innovative and, in some cases, award-winning designs.
The business went through some rough patches during its early years, but it appears to have found its footing in recent years.
If you're in the market for a stylish, well-designed faucet with a trustworthy valve that should give you a lifetime of trouble-free service, you owe it to yourself to look at these faucets. However, remember that the guarantee is flawed and that Watermark's method for claiming the warranty is complicated and not exactly customer-friendly if it fails.
The Watermark brand of faucets has been rigorously tested by an independent laboratory and determined to comply with all dependability and safety criteria governing drinking water faucets' sale and installation instructions in North America.
North American regulations for lead-free plumbing and safe drinking water are among the strictest in the world.
Faucets that have not been approved as meeting North American standards are illegal to install in any drinking water system in the United States or any Canadian province.
Watermark Designs Limited
Watermark Designs, Ltd. should be included in the list of companies with great designs because they sell some of the most unique faucets in the Americas.
After beginning in 1976 as Sepco Industries, Inc., a metal plating company, Jack Abel and his son Avi Abel acquired Eurotec, a designer and manufacturer of decorative hardware, in 2000. This marked the company's expansion into designing and manufacturing high-end decorative bath fixtures.
The design arm of Eurotec rebranded as Watermark Designs, Ltd. Sepco handles the manufacturing.
You may find Watermark faucets in various styles, from classic to cutting-edge, all neatly packaged in themed sets. Faucets, shower units, tub fillers, and matching accessories are typically included in complete collections. A few even have matching shower drains, cabinet pulls, knobs and console frames to give everything a seamless, unified appearance.
There are faucets available in designs from the Victorian era up to the present day. There is sure to be a Watermark faucet that suits your taste and the era of your home (whether old or modern).
But if none of Watermark's conventional choices work for you, the ID team may create a unique model for you. Naturally, you would have to order hundreds if you wanted to offset the expense of specialized design and engineering for your luxury hotel, Casino, or mega-mansion.
In the past, the company's website boasted, "a true manufacturer of made-in-the-USA items." This is no longer the case.
Watermark faucets have not been "Made-in-the-USA" under legal definitions for many years. According to Federal Trade Commission guidelines, products with the "Made in U.S.A." logo must be constructed entirely or almost entirely from components manufactured in the United States.
Nowadays, Watermark imports nearly all of its faucet parts and many complete faucets from Chinese and Taiwanese firms that meet Watermark's requirements.
The Watermark Lifetime Limited Warranty
If you want to know how the company's management feels about its faucets, you first need to read and comprehend the guarantee. Having a warranty shows that Watermark is confident in the quality and lifespan of its faucets.
Defining the Term Lifetime
A lifetime warranty covers Watermark's faucets except for a few finishes. It is standard practice in the faucet industry to provide a 5-year warranty on metal finishes like gold and copper finishes but not on living finishes like Aged Brass. Similarly, it is not uncommon for a faucet's glass, porcelain, or crystal parts to come with no warranty.
However, the warranty's definition of "lifetime" is not just written in language that would make a scholar of the English language want to imbibe heavily; it also might land the corporation in legal hot water. The business has had enough difficulties without adding any more.
The definition of "lifetime" is as follows:
For as long as the original consumer purchaser owns their house, Watermark designs products carry a lifetime limited warranty to be free from flaws in material and craftsmanship.
The first issue with this approach is that it does not include renters and lessees as potential buyers. It's unclear why Watermark would prefer to keep these potential buyers out.
As for the second point, this interpretation of "lifetime," which includes "as long as they own the residence," "is not clear. The purchaser's primary residence need not be the same property where the faucet is installed. Any house will do.
Thirdly, the purchaser can give up ownership of the sink at any time and still be covered by the warranty. He must merely be a homeowner. Leaving out this detail can have extremely unanticipated outcomes.
But a few sentences later, the definition is expanded upon:
The fine print states, "This guarantee extends only to the first consumer purchaser of the Original Equipment in its Original Installation."
In the initial setup," is the essential phrase here. Watermark does not specify what has to be included in the initial setup. However, we think the faucet is a must.
Problems exist in the wording. A bathroom faucet, for instance, cannot be relocated from its "original installation" and used in a different bathroom. If that's the case, your warranty will no longer apply. The sink's original set-up has been altered.
We seriously doubt that Watermark intended for these ridiculous outcomes. However, the terms of the guarantee are worded in that way. One of the hallmarks of a competent legal writer is considering every possible outcome before writing. That's just bad legal writing on their part.
When a legal concept is ambiguous, the rule of contra proferentem dictates that it must be read in favor of the party that did not draft the document.
Other Legal Warranty Issues
There are several other warranties legal problems.
The warranty is nullified if you "use not genuine Watermark Designs parts replacement." This is known as a tie-in clause, and it is forbidden under Magnuson-Moss, which forbids them directly. (16 CFR § 700.10) The purchaser may use any component.
The warranty is also void due to "any damages resulting from accident, misuse, abuse, negligence, improper installation, or improper care"
In addition to not replacing the handle under warranty, Watermark will void the entire warranty if you accidentally break a faucet handle.
Violation of the warranty carries a severe penalty and is possibly against the law.
Unlawful Waiver of State Law Guarantees
According to the warranty, it is the "sole and exclusive remedy" and "is in lieu of any other assurances of merchant ability and fitness for a particular purpose" available to a customer.
The general rule under Magnuson-Moss is that a company's written warranty is an addition to, not a substitution for, any implied warranties of merchantability and fitness provided by state law. Therefore, Watermark's attempt to disclaim implied guarantees is invalid and has no legal force. (15 United States Code 2308)
State Law Warranties Excluded
The guarantee offers to "replace any part, which proves defective in material and/or workmanship,"but the company is "not liable for any labor or other charges or losses of any type or character."
Three issues plague this omission.
First is labor exclusion. A full warranty prohibits that. A comprehensive warranty needs free installation labor for uninstalling and reinstalling products like faucets. (16 CFR § 700.9) The company should pay for these charges.
Second, a full guarantee excludes only faucet damage. "Consequential and incidental" or "special" damages. [5]. Adding the following qualifying statement to a limited warranty excludes specific damages: (16 CFR § 701.3(8))
In some states, incidental and consequential losses cannot be excluded or limited.
The Watermark warranty lacks the mandatory statement. Thus, its warranty exclusion of labor and any consequential and incidental losses is invalid.
Finally, most states exclude consequential and incidental damages if they are named. "Damages of any type or character" do not exclude consequential and incidental damages.
Watermark Faucets Finish Durability
Different coatings have varying levels of durability.
Some finishes, referred to as living finishes, are anticipated to change color, fade over time, and exhibit other signs of usage and wear. The finish predetermines these outcomes.
However, other sorts of finishes are anticipated to be more robust. It is not anticipated that they will deteriorate or display excessive wear.
The most durable faucet finishes are listed first, followed by the least durable.
Electroplated chrome is 10 to 20 times more scratch-resistant than physical vapor deposition (PVD) coatings. Most pollutants found in homes don't have an impact on them either.
The most recent faucet finish used is Thin Film Ceramic (TFC). It is almost as resilient as PVD coatings. Very few businesses use it. However, take a look at Isenberg Bath.
The traditional method is electroplating. Although it is a durable finish that can withstand most misuse, how long it lasts depends on the metal used.
Because chrome is more durable than nickel, which is by nature a softer metal, chrome superseded nickel as the preferred faucet finish in the early 20th century.
In essence, powder coating is paint that has been applied in powder form and then dried in an oven. Similar in durability to your car's finish, it is regarded as semi-durable.
More easily damaged than powder coatings are lacquers. To stop corrosion, clear lacquers can be applied to exposed brass.
Faucets Universal Requirements
Unless otherwise specified, the following regulations apply to both Canada and the United States. In either country, installing a faucet in a drinking-water system is illegal if it does not comply with these specifications.
North American Faucet Standard
IAPMO Group, Research, and Testing conducted testing on Watermark faucets, which resulted in certification that they satisfy or exceed all design, performance, and safety requirements of ASME A112.18.1/CSA B125.1, the joint U.S./Canadian complete faucet standard.
For a faucet to be used in a drinking-water system, certified conformance with this standard is required by all North American plumbing codes in force. Certified Watermark faucets may be legally used everywhere in the United States or Canada unless specifically restricted by additional state, provincial, or local regulations.
The National Plumbing Code (NPC) of Canada
The NPC of Canada, created by the National Research Council of Canada, forbids the installation of any faucet that has not been tested to ensure compliance with the joint basic faucet standard and the joint lead-free standard. Whether or not they are based on the National Code, all Provinces' building and plumbing codes need the same testing and certification. (See, for example, Ontario Building Code Section 7.2.10.6.)
Watermark faucets can be installed in any Canadian drinking water system unless prohibited by provincial law.
Standards for Safe Drinking Water and Lead-Free Systems
The joint American-Canadian standard for lead-free and drinking water safety, ANSI/NSF 61/9, has been tested and determined to comply with Watermark faucets. To be utilized in a drinking-water system in the United States or Canada, a faucet needs to be certified to meet these standards.
U.S. Safe Drinking Water Act
This act mandates that sink faucets have a "weighted average" lead content on surfaces that may come into contact with water of no more than 0.25% (1/4 of 1%). No faucets that do not comply with this standard may be utilized in a "facility providing water for human consumption" or sold or offered for sale in the United States. This act and similar Canadian provincial laws and regulations are satisfied by the certification of Watermark faucets as compatible with this standard by a recognized third-party testing company.
What Faucet Brand Do Plumbers Recommend?
Plumbers would recommend faucets with Watermark and CUCP certifications, such as Delta, Moen, and Kohler. Other brands like Faucetu also comply with the strict requirements of CUCP and Watermark. Plumbers prefer these brands because of their reliability, quality, and availability.
What is the Most Reliable Kitchen Faucet Brand?
For more than a century, Pfister has produced the highest-quality kitchen and bathroom fixtures, earning a spotless reputation for first-rate customer support. Due of Pfister's promptness and willingness to repair any defective systems or parts at no cost to the customer, it is extremely uncommon for customers to have negative things to say about them. The lifelong warranty they provide with their products, known as Pforever Warranty®, includes this service. Prospective consumers can rest easy knowing that their new fixture is guaranteed to work for life and that any issues will be quickly fixed.
Who Owns Watermark Faucets?
Today, Watermark Designs was acquired by Dimora Brands, the parent company of a number of high-end, market-leading brands, including Top Knobs, Water Street Brass, and Hardware Resources.
Do Kitchen Faucet Brands Matter?
In a heavily utilized item like a faucet, durability is crucial. Because some manufacturers establish their names on premium parts, lifetime guarantees, and top-notch customer support, the brand counts.
Faucetu faucet has various certificates and provides various certifications, you can contact us anytime if you need.