Gun Metal Faucet Maintenance

It does not matter what type of kitchen faucet you have. You must take care of it and apply proper maintenance so it will last for a long time.
Most gun metal kitchen faucets are made of high-quality stainless steel and chrome finish.
Using the appropriate technique and products to maintain the kitchen faucet clean will provide a nice sheen and prevent it from rusting.
Gun metal faucets are made from different materials. So what works with stainless steel may not work well on chrome.
Below are tips on how to take care of various types of faucets and some of their characteristics.
Add a header to begin generating the table of contents
Hard water, with high quantities of calcium and other minerals, might affect the lifespan of your faucet.
This could happen when the hard water builds up, and damage hinders how your faucet and linked piping work.
Hard mineral deposits gather whenever water accumulates.
Changes in water pressure or how the water flows out of the spout are signs of hard water buildup wreaking havoc on your faucet.
Blockages caused by mineral accumulation prevent water from flowing freely down your faucet and instead cause it to drip or spray in an erratic pattern.
A white film may have formed on your faucet or its surrounding area. Iron in the water can cause the buildup to turn your sink a rusty or yellow color.
You have a few options when it comes to deep cleaning your faucets to remove hard mineral buildup. The deposit is extremely difficult to remove.
It is best to purchase a cleaner designed specifically for removing mineral deposits.
If you have hard water and are concerned about potential problems with your faucet, installing and keeping a water softener can help.
Tips on How to Clean and Maintain Various Gun Metal Faucet Finishes
Electroplating Faucet Coatings
Electrodepositing chromium, nickel, and other metals onto a brass substrate is the industrial process that results in the coating of metals using an electric current (also known as "electroplating"). Because of this, their service life is extended and requires little upkeep.
As a general cleaning tip in maintaining an electroplating faucet, use a moist soft cloth and gently wipe before drying with a soft towel.
You should never clean electroplating faucet finishes with harsh abrasive cleaners, solvents, acids, or bleach. Some of the electroplating faucet coatings are polished nickel, brushed nickel, and chrome belong to this type of finish.
Polished Nickel Kitchen Faucet
Polished nickel has a more subdued hue than chrome plating. Because of its one-of-a-kind shine, this faucet finish is a must-have for any contemporary bath. It will look different under natural or fluorescent light.
It is easily maintained by wiping it down with a moist, clean, soft cloth or a soapy, damp cloth and buffing it dry regularly.

Like chrome, polished nickel shows fingerprints and watermarks but requires more upkeep to keep its brilliance.

Polished nickel faucets require regular care because, like natural brass, it oxidizes over time if the top polish layer cracks or chips.

You may remove watermarks by gently rubbing them off with a soft towel dampened with white vinegar.

Use a toothbrush to scrub hard-to-reach places after spraying them with disinfectant and letting them sit for a minute (like edges). 

It's important to remember to wipe dry the faucet with a clean towel after rinsing the cleaner off.
The temperance and softness of brushed nickel will be proven as it ages. It shows simplicity, tradition, and warmth.
The brushed nickel faucet will complement the bathroom's interior if combined with bathroom accessories.
Due to the harmony it promotes, you can use it for the surface treatment of any home appliance.
Brushed nickel makes the faucet clean, looks better, and goes well with both dark and light-colored basins.
 Brushed nickel, in contrast to polished nickel, hides fingerprints and watermarks. Daily wiping with a moist, soft cloth is all that's required for maintenance, though.

Brushed nickel, like chrome, is hardy and simple to maintain. Using strong abrasive cleaners and scrubbing can cause corrosion, so be careful when cleaning.
Since you may use it in various settings, polished chrome has always been a preferred faucet finish. Its smooth and refined finish is ideal for today's ultra-modern or industrial bath.
The fashionable appearance brings out the neutral tones. The chrome-plated faucet's understated elegance elevates the room's overall design.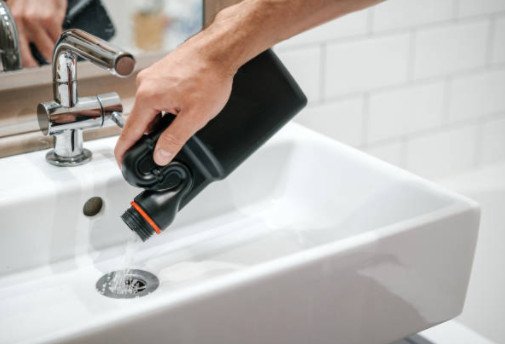 Even though it is long-lasting, fingerprints and water spots can dull chrome's luster. Spots can be removed by buffing them with a dry, soft cloth.

Cleaning polished chrome is as simple as using soapy water and a clean, soft cloth or sponge, followed by rinsing and towel drying.

You can also clean chrome with a water solution of equal parts water and white vinegar.

If you have a chrome finish, you should know that white vinegar can eat away at it if left on for too long.

As with most other finishes, you should not clean chrome faucets with abrasive soaps and scrubbers. Use only mild soap that is gentle on the chrome-finished kitchen or bathroom faucet
Powder Coat Faucet Finish
Electrostatic spraying is used to apply the finishing touches to powder coatings, which is a dry varnish technique.
The fine powder is put to the metal substrate via spray cannon and then baked at high temperatures.
Any product with a powder coat has high durability and high moisture and UV radiation resistance. It's aesthetically pleasing and protects against blemishes like scratches, chipping, wear, and rust.
In contrast to traditional powder paint, Vintage Brushed Brass is a liquid epoxy.
Black matte finishes are as common as shiny chrome ones. The sleek, understated style of the black gun metal faucet makes it the focal point of the kitchen sink.
The appearance is superb and cutting-edge.
The matte black, aged look is becoming increasingly fashionable
The entire bathroom feels new and distinct with the addition of leather furniture or one-of-a-kind wooden stools..
When cleaning a product with a powder coat, use soapy water solely on hard water spots caused by soap or toothpaste deposits.

You can use a solution of white vinegar and water to remove scale deposits. Washing it with fresh water and drying it gently.

Don't just drop it in the liquid like that. White vinegar is a mild acid. Therefore it may wear away at a surface's covering if it comes into prolonged contact with it.

You should never clean it with a rough, damp cloth or strong chemicals like bleach or acid. As an added precaution, you shouldn't use any disinfectants, solvents, or alcohol on painted components.
Brushed Gold Faucet Coating
The brushed gold finish adds a touch of class, giving the piece an attractive appearance. The brushed gold finish complements the kitchen or bathroom faucet, creating the impression of high quality and sophistication.
The room is brightened and becomes cheery with the use of gentle blue and pure white accents.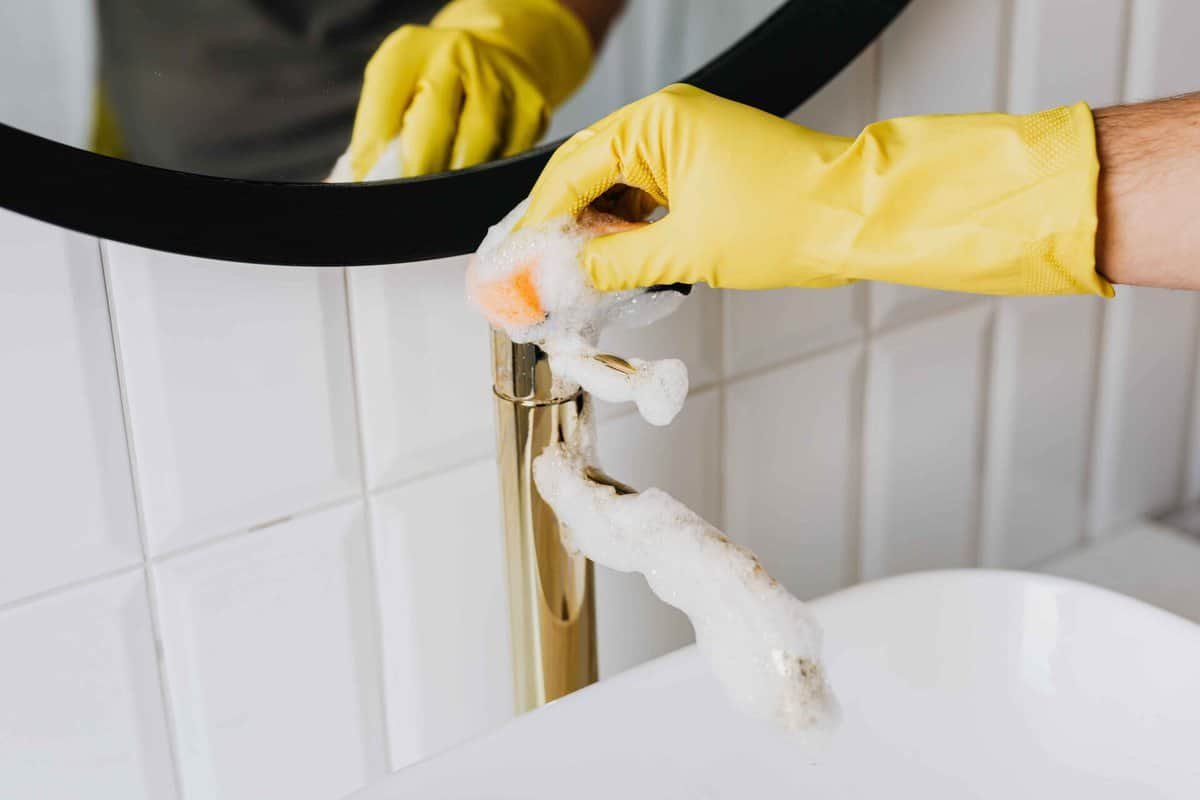 After each usage, wipe the faucet with a soft cloth to remove stains and prevent mineral deposits.

Use water and mild dish soap to wash out any stains or grime, then rinse and wipe dry.

Keep the amount of friction to a minimum, and avoid using abrasive sponges or chemical cleaning products on these surfaces.
There is a hardwired sentimentality for brass. A faucet made of polished brass exemplifies this country style perfectly.
The polished brass gets a fresh lease of life amid the nostalgic ambiance that washes over the entire washing area. This design is suitable for any bathroom fixture.
Unprotected living finishes will evolve in appearance as they age. Thanks to this process, each object can get its own special glow and personality.

Pay extra close attention to the surfaces. The velvety feel will wear away over time if the entire surface isn't waxed regularly.

Regular wiping with waxing will keep the faucet in pristine condition.

To clean, use a damp cloth and wipe gently, then wipe dry with a soft cloth.

Abrasive cleaning products, such as rough rags, acids, solvents, or bleaches, should never be utilized.

The user's maintenance practices directly impact living surfaces' longevity and aesthetic appeal.

If you take good care of the faucet, it will look new for a long time.
Physical vapor deposition (PVD) is a cutting-edge method of producing extremely durable coating finishes. It is impervious to the elements and common cleaning chemicals. PVD coatings are exceptionally tough and long-lasting.
The easiest way to preserve these surfaces' beautiful state is to wipe dry them with a soft towel after each usage.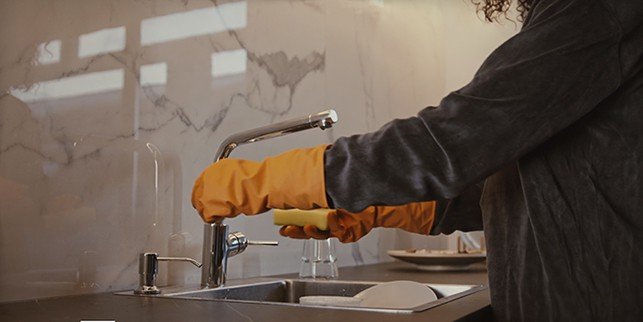 The smooth brass finish, which is both subdued and daring, draws attention to a deeper meaning. The polished brass aesthetic only heightens the presentation's originality and depth.
Satin brass foil brings a new level of artistic beauty to the bathroom, which is a pure color with a dark tone, thanks to its exquisiteness and softness.
Despite its lackluster sheen, the glossy brass water faucet has found a home in many contemporary and modern bathrooms.
The oil-rubbed golden color gives off a vintage air. The water faucet has a rich dark brown color, giving off a classic and stately vibe.
Also, the color shifts to a dark grey with a copper tone, giving the faucet an air of simplicity and rusticity.
A bathroom decorated in a Mediterranean style will look great with an oil-rubbed bronze finish.
A mix of equal parts white vinegar and water can remove scale deposits.

Wash it with fresh water and dry it gently. Avoid completely submerging the product in the solution.

White vinegar is a mild acid, so soaking it for too long could strip away the covering.

No harsh cleaning agents like bleach, hydrochloric acid, phosphoric acid, or caustic cleaners should be used, nor should abrasive cleaning cloths. Use only soft cloth.
The shine and durability of stainless steel faucets may be maintained with proper cleaning with soap and water. Avoid using wire brushes, abrasive cleaners, and scrubbers since they can scratch and dull stainless steel.
The best way to restore its luster is to massage and dry it in the same direction as the grain. To avoid rust, quickly rinse stainless steel after cleaning.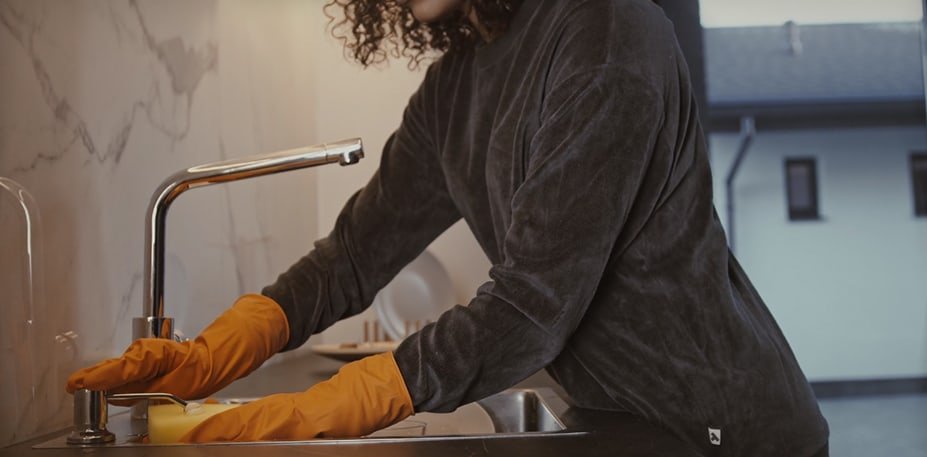 You can avoid water spots and surface rust stains on stainless steel faucets by drying them thoroughly after use. Keep stainless steel away from drying rags, towels, and sponges to prevent them from dulling.
How to Take Care of stainless steel sinks and faucets
Always use a soapy warm water solution and a rag to clean the faucet and sink. The sink will be free of the typical, everyday stains with this.

There is a risk of limescale buildup on the sink and faucet in locations with hard water.

To eliminate the stains that red wine, coffee grounds, and other dark beverages might leave on your limescale, try cleaning it with a bit of lemon juice or white vinegar. Just put it on, wait a few minutes, and then wash it off.

You can easily remove stains set in the sink with an overnight soak in a solution of diluted biological washing powder. After you're done, give the sink a good rinsing with warm water.

Baskets, grids, and a cutting board can be useful for containing food and preventing damage to the sink.

Bleach, white spirit, caustic soda, ammonia, and sterilizing solutions are just some of the harsh chemicals that should never be flushed down the toilet or poured into the sink. If this occurs, simply clean it up as soon as possible and run it underwater.

We do not advise using a plastic washing-up bowl because grit particles that may be embedded in the bowl's bottom could harm the sink's finish.

Do not use the sink's surface for chopping. Doing so can lead to costly repairs. Wooden cutting boards made of wood are commercially available.

If you want to keep your stainless steel sink in pristine condition, refrain from putting anything sharp in it.

The prolonged presence of plain bleach can harm even stainless steel sinks. If you spill some neat bleach on this, just wash it off with hot, soapy water. 
General Cleaning, Maintenance, and Prevention

Regularly clean your faucet with a soft, damp cloth, such as microfiber, with a small bit of gentle soap, and dry it off with a soft dry cloth to prevent water marks. By doing this, you can help your faucet retain its original shine.

Whenever your faucet becomes wet, try to dry it off as soon as possible with a soft (microfiber) cloth to avoid water spots and other damage. A faucet that water spots have stained is readily cleaned with a moist cloth and some warm water.

Scrubbing your faucet with abrasive sponge pads or cloth can destroy the shine by scratching or scuffing the finish. Using a soft-bristled toothbrush is sufficient for cleaning those regions that are more difficult to access or where water deposits accumulate.

Stay away from harsh chemicals like bleach or abrasive cleaners. Especially those with caustic ingredients like hydrofluoric, hydrochloric, phosphoric, and nitric acids.

If your faucet is prone to tarnishing or rusting, it is essential to avoid using any cleansers that contain these ingredients.

Scrubbing the discoloration with a toothbrush dampened with baking soda and water should remove it.

Matte-finished faucets benefit from the periodic application of polish or wax—either aerosol or liquid—to remove fingerprints and other indications of daily use.

Scratches and other damage to your faucet can be avoided using a mild abrasive cleaner and scrubbers. Remember to consider the faucet's finish when selecting and utilizing cleaning products.

To ensure the proper flow of water in your faucet, do not forget to clean the aerator. Mineral buildup and debris may cause your kitchen faucet not to function properly. In cleaning the aerator, you need to remove its parts, flush them with water and gently remove the debris by brushing them away with a soft brush.

You can remove stubborn deposits from the aerator by soaking it in white vinegar overnight and then rinsing it well with hot water the next day. A replacement aerator can be bought with little effort because they are widely distributed and inexpensive.

Follow the advice given above to achieve excellent results with the sink faucets in your home. Also, if you are looking for a new bathroom and kitchen faucets, faucetu.com is a great resource to visit. They can provide a diverse selection of amenities and accessories that can complement the design of any kitchen and bathroom.
We hope that by following the advice in this guide, you will be able to extend the life of the faucets in your home and maintain their beautiful appearance.
If your faucet has been used for many years and has undergone difficult accumulation, it may be simpler and more cost-effective to replace it rather than attempting to clean or repair it, especially if the buildup has been challenging.