China Best Faucet Water Filters Manufacturers
Why do the best faucet water filter manufacturers in China matter a lot when it comes to water filtration?
Add a header to begin generating the table of contents
According to Ourworldindata.org, poor sanitation and drinking water that isn't safe are the leading causes of diarrheal diseases worldwide. This is one of the main concerns of China.
One way of assuring that you and your family will have clean and safe water to drink is to have a reliable water filtration system. The faucet water filter plays a vital role in this.
The Increasing Demand for Water Faucet Filters in China
The demand for water filters in China increases as the water becomes more contaminated because of many factors, such as the dumping of wastes in the river from various factories.
Faucet-mounted water filters eliminate contaminants, last longer before they need to be replaced, and let you get filtered water from the sink whenever you want.
China has been the leading filter and taps manufacturer for a longer period of time. The question is, who manufactures the best faucet water filter in the country?
To address this issue, we have reviewed seven of the best faucet water filter manufacturers in China to help you decide. Don't just scroll this page.
You have to read thoroughly so you will not end up buying the wrong product.
7 Highly-Recommended Faucet Water Filter Manufacturers in China
Keman Environmental Technology Co., Ltd.
Keman Environmental Technology Co., Ltd. has been in business since 2000. They are known in China as one of the best central water purification systems makers, water softeners, and whole-house pre-filters suppliers.
Their business has over 12,000sqm. And have an ISO9001 certificate for their quality system and have set up a QC system. "Keman Water" is the name of their brand.
They develop new products for their clients based on what the market needs and how good their technical skills are.
As they look to the future, they will stick to their logical idea of "Developing Technology, Developing Future," and hope to work with you in the field of water treatment.
Additional Facts About Keman Environmental Technology
Keman water filter is made of Polypropylene (PP) and Acrylonitrile Styrene (AS). These materials are considered safe and non-toxic.
Tapware filters are available in various types depending on your water quality.
Effective in removing the unwanted smell, color, and organic chemicals in the water.
You can use their water filter with almost any standard 10-inch filter cartridge on the market.
Keman water filter comes with a quick-and-easy diverter valve that lets you put it in place without any extra parts.
Whole house or point of entry (POE) systems are usually installed on a home's main water line. They catch sediment before it gets into the house's water supply.
Putting money into a whole house filter will protect your clothes, fixtures, and toilets from rust and iron particles that can leave ugly stains. It will protect your sanitary ware and make them last longer by getting rid of sand, silt, scale, and other things.
Keman tapware water filters have good ratings in online stores such as Alibaba.com. All of their buyers are satisfied with the quality and effectiveness of the product. Their water filters are also quite easy to install.
Shenzhen Landun Environmental Technology Co., Ltd.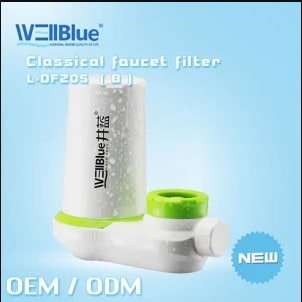 Shenzhen Landun Environmental Technology Co.,ltd is a high-tech company that researches, develops, and uses water filters.
As a professional provider and one of the best suppliers of water filters, Landun has been committed to giving customers a range of high-quality water purification products, solutions for water treatment technologies, and water treatment technologies & renovations.
The company carries the brand name WellBlue.
Landun water filters can help maintain a continuous flow of clean water.
Additional Facts About landun environmental Technology and Sanitary Ware Company
The company passed the ISO 9001:2008 Quality Management System Certification.
FDA, ROHS, and CE approved.
In Kaiping, Landun Sanitary Ware is a popular company that offers bathroom accessories and plumbing services.
The water filter cartridges products of Shenzhen Landun have passed the inspection of the NSF organization. American Water Quality Association awarded the company a gold seal certification.
Use a high-performance UF membrane filter that you can repeatedly use after cleaning.
It uses a type of UF membrane that works with pressure from the outside. This makes the UF filter last longer and keeps the water flow steady.
It's easy to change the filter when it's fast-connected.
The double-changed faucet makes it easy to get clean and alkaline water quickly.
It uses five stages of water purification technology to filter the water thoroughly.
As a professional maker of water filters, Shenzhen has made many products to meet the market's needs in potable water, industrial process water, and wastewater treatment.
The company promises to keep coming up with better and better products to meet customer needs.
Ningbo Yinyue Electric Appliance Co., Ltd.
Ningbo Yinyue Electric Appliance Co., Ltd, located in Yuyao City, China, produces and sells a wide range of water filters for polished chrome faucets at homes, such as mineral pot filters, pipeline water filters, reverse osmosis water systems, water filters under the sink, countertop water filters, and various types of filter cartridges that are very accurate in filtering.
The company was founded in 1998 in the city of Yuyao in the province of Zhejiang. It is known for making electric appliances, plastic, and molds.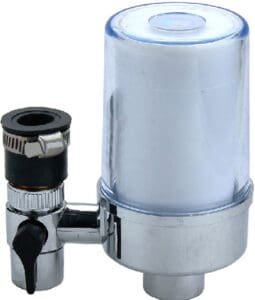 Additional Facts About Yinyue Electric appliance co. ltd.
Their products had certificates from IS9001 and CE&GS that certified that they were good.
The products sell well on the home market and in places like the Middle East, Europe, Africa, and the United States.
The company uses high-tech equipment to make products that meet international standards and are popular with both foreign and domestic customers.
Yinyue has many years of experience in the water filtration system, manufacturing filters for faucets and bathroom sinks.
Their products are easy to install and use. You don't need a professional to complete the installation.
Yinyue faucet water filter has a convenient selector that enables you to switch from unfiltered water to filtered and vice versa.
Tianjin Tianchuang Best Pure Environmental Science and Technology (Yunda Filter Co)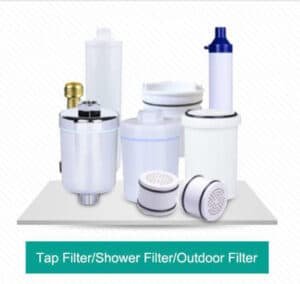 It was in 2001 when Tianjin Tianchuang Co., Ltd, also known as Yunda Filter Co., was established. The company is located in the north of China.
The faucet factory is a professional and strong company specializing in manufacturing and designing a wide range of water purification elements like water filter housings, cartridges, commercial and household water filter systems, and all the related spare parts.
Additional Facts about Yunda filter co.
Yunda Filter Co water faucet filter passes the four steps of quality control procedures in manufacturing – IPQC (In-Process Quality Control), IQC (Incoming Quality Control), OQC (Outgoing Quality Control), and FQC (Final Quality Control). 
Filters have passed five National Safety Foundation (NSF) standards, namely NSF/ANSI 42, 372, 401, 53, and P473 under NSF ensuring the products' safety and good performance.
The company is ISO 9001 certified, and all its filters have passed the SGS, FDA, TUV, EC, and BPA Free tests.
The product design and development R&D were manned by a team of professionals comprising 15 engineers. 
Their raw materials were sourced only from trusted companies, and have been working with them for a longer time. 
They offer customization of design to meet your specific requirements. 
Yuyao Yadong Plastic Co., Ltd. (Nature Water)
Yuyao Yadong Plastic Co., Ltd. The company is located in Yuyao city, Ningbo, a developing coastal city.
It makes a wide range of water purification equipment and accessories, such as the Reverse Osmosis system, control valves, water softeners, countertop water purifiers, filter cartridges, pipe water purifiers, and all kinds of parts.
They have been doing this in China for more than 12 years. Yadong is now one of the largest OEM suppliers for some of the most well-known brands in the world.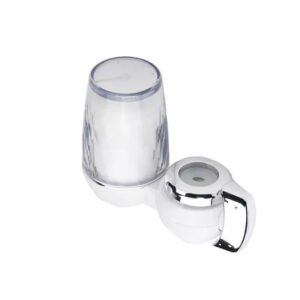 Additional Facts About Yuyao Yadong 
With continuous research and development efforts and a concentration on quality control, they got orders from all over the world, including Europe, East Asia, Oceania, Southeast Asia, South America, and the Middle East.
It was in 1999 when Yadong introduced its product line to the public. The company is located in a 30,000 sqm lot. in Yuyao city. 
Yadong is ISO9001:2008 certified, a member of CE, RoHS, and WQA, and has implemented a quality control system. 
They have the best technical skills in building new products that meet their clients' specifications.
They have been offering large-scale export-worthy products for ten years, including industrial design, technical research, and development. 
Yadong tap filter has an ultra-filter or ceramic and carbon filter membrane. The filter can be installed on the faucet and shower to provide clean water for the bath and healthy living.
It also has a set of university fittings for ease of installation on any bathroom or kitchen faucet. 
Kangpu Water Treatment Equipment Factory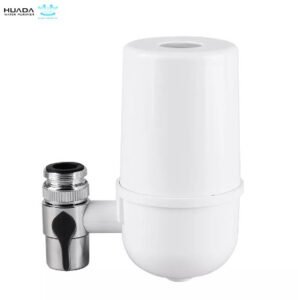 Kangpu Factory is a well-known faucet water filter manufacturer in China. The company is located in Zhejiang Yuyao, the home of human civilization for the past seven thousand years.
They produce more than a dozen categories, reverse osmosis pure water machines, high-precision water filter faucets, and hundreds of different household and commercial water purifiers.
Their wholesale China faucet water filters are not only popular in the United States, but they are also shipped to Malaysia, Singapore, and other countries.
Additional Facts About Kangpu Water Treatment Equipment Factory
The company is focused on building high-quality products for high-end markets.
Their products comply with international standards and are exported to Japan, Europe, America, and other destinations worldwide.
They have their own testing lab and state-of-the-art inspection equipment that ensures all their products are of high quality.
The company is offering a wide range of bathroom accessories and faucet water filters that will fit your kitchen sink faucet and also your shower and bathroom faucets.
Kangpu is CE and RoHS-certified and has passed all the safety tests conducted on the product.
The company has received a five-star rating on Alibaba.com for its product quality, delivery and performance.
Faucetu Faucet Manufacturer in Zhejang China 
When it comes to faucets, FaucetU is one of the popular suppliers you can call. The firm was founded in 1996. They are a seasoned OEM/ODM company with over 26 years of expertise.
They are the fastest in the industry at both proposal and production times, thanks to their sophisticated automated machinery and expert knowledge of how to make the whole thing seem effortless.
With unmatched quality and service, they will guarantee that your new water faucet arrives on time. The purpose of FaucetU is to provide relaxation.
Additional Facts About Zhejiang Faucetu Faucet Manufacturer
They offer free consultations, which their experienced product manager will handle.
Their products, such as bathroom and kitchen sinks sanitary ware, are much lower than others as there is no additional cost since all the faucets are manufactured in their factory.
Maintains conformity with the European Union's REACH regulation. To create the sand core, Italian IMR gravity casting equipment was used to ensure the highest standards of environmental friendliness.
One of the company's unique points is the ability to customize the look and feel of each faucet.
Provides cutting-edge designs in water-control faucets for use in bathrooms and kitchens.
Certified by DVGW, Certificate of European Union, Watermark, ACS Certified, UPS, and WRAS approved.
A water faucet filter manufacturer must get certified by various organizations to get consumers' trust. Some of these organizations include the ISO, CE, GS, and others.
The company should follow international standards to be recognized worldwide. Sanitary ware companies in China continue to increase as the demand for cleaner water increases.
If you have something in mind that you want to share or have questions that you want to ask, you can do so by commenting below.