Add a header to begin generating the table of contents
As a parent, ensuring the safety and well-being of your child is always a top priority. One of the most essential and fundamental habits to instill in children is proper hand hygiene. However, reaching the faucet can be a challenge for our little ones, leading to messy and potentially dangerous situations. Likewise, bath time can be a challenge with a baby or toddler, especially when it comes to washing their body and face. Faucets can be too high for them to reach, and the water pressure can be too strong. This is where a faucet extender for babies and toddlers can come in handy.
In this article, we will discuss how a faucet extender for babies and toddlers works and why it is a useful tool for parents.
What is a faucet extender?
A faucet extender is a simple device that attaches to the spout of a standard faucet to extend its reach. The design of a faucet extender for toddlers and young kids is specifically tailored to make it easier for little hands to reach the water stream, thus promoting safe and efficient hand washing habits.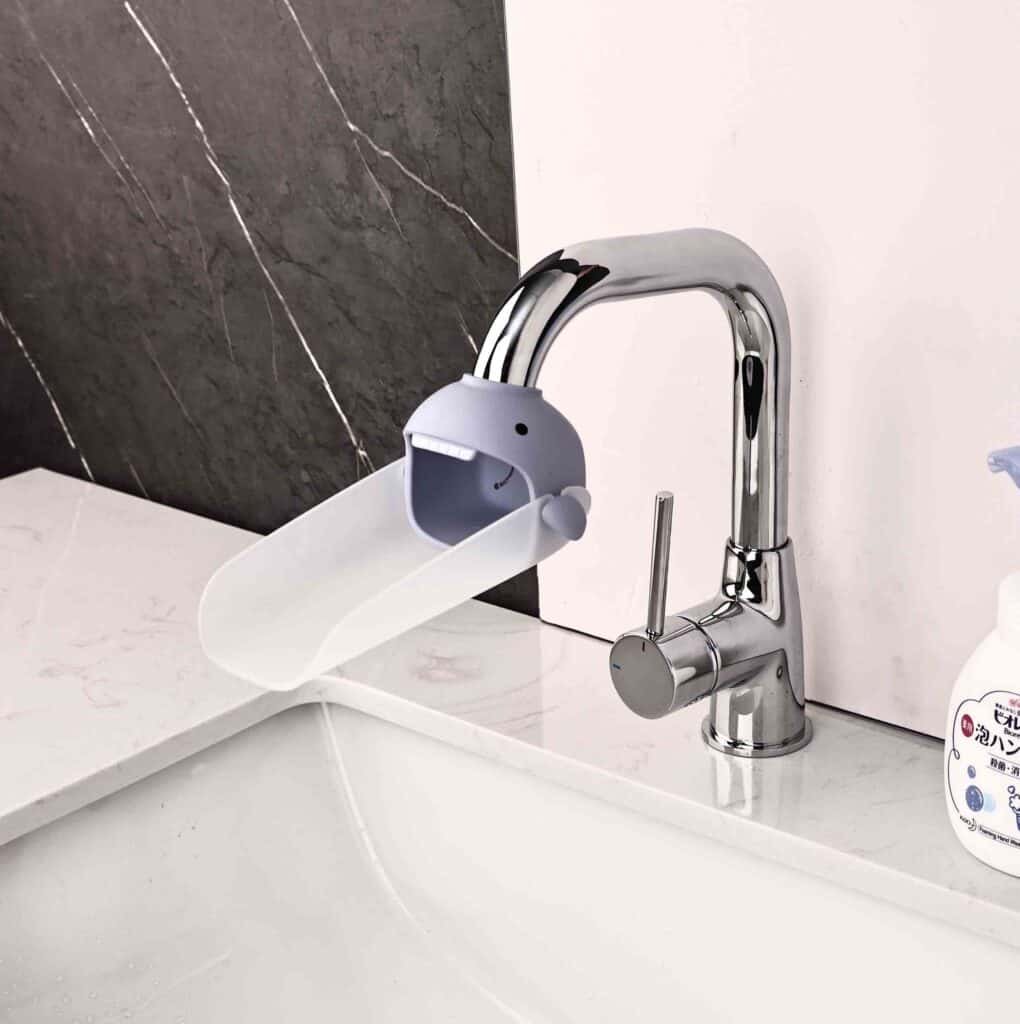 There are several reasons why you'll love these faucet extenders for your taps.
First of all, it helps to gently release the water from the faucet making our children readily at ease and no longer anxious when it's time for their handwash or bath time. So, what used to be our kid's dreaded trips to the bathroom now become fun playtime.
Second, they are safe because they are made from strong and durable plastic that is intended to last long. These vibrant pourers are BPA, PVC, and phthalate free. These harmful chemicals are usually found in plastic baby bottles, water bottles, food packaging, and beauty and skin products according to the Department of Health, and should be avoided as they may interfere with our child's growth and brain development.
Third, a faucet extender can promote safe and effective hand washing habits in children and prevent unnecessary waste of water. It can be challenging for our little ones to reach the faucet and wash their hands without assistance.
I have no qualms teaching them to wash their hands on their own because the gentle water flow directly lands on their hands so there is no water mess, which reduces the risk of accidents and spills. Its wide long spout helps reduce the splash. Isn't that amazing?
And because of that, they can help us parents save time and energy as our kids can do this handwashing activity on their own, without the need for constant supervision or assistance from an adult. This can be particularly helpful during those busy times when we have to prepare meals or get our kids ready for bed.
Finally, these colorful and eye-catching faucet extenders for babies and toddlers pacify them and make them feel so much at home. They can definitely make hand washing fun for our children. The colorful and playful design of most faucet extenders can help turn a routine task into a fun activity, encouraging children to develop good hygiene habits early on.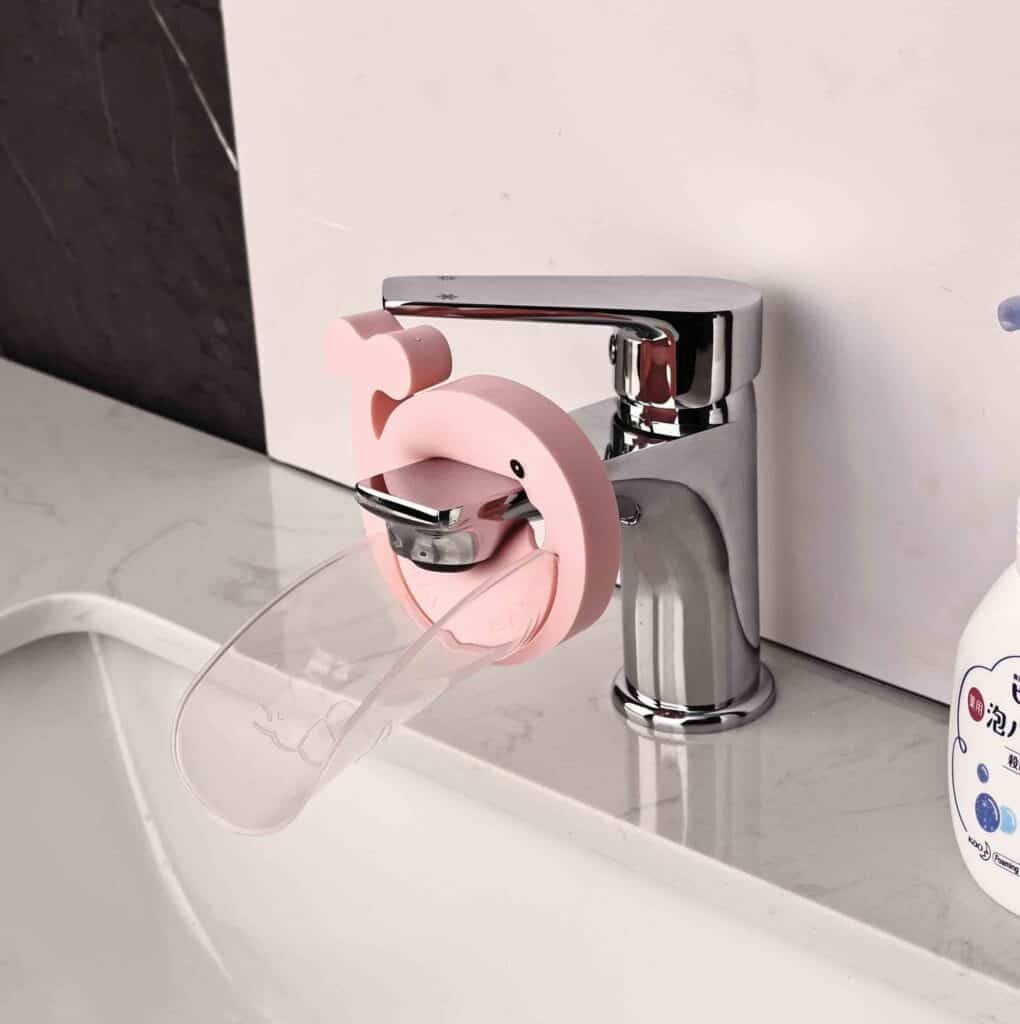 It's so easy to install faucet extenders. No need for plumbing tools! It only takes you less than a minute to place quickly this flexible attachment to your tap. Focus on the slit part and the faucet extenders simply slip onto your faucet and remain securely positioned. They have a universal design that can fit practically most standard faucet styles.
The best faucet extenders on the market
I recommend Yihaya, Aqueduck, and FaucetU, Better Line faucet extenders as four of the best in the market because of the following reasons:
Compatible with most faucets
The flexible design of the faucet extender allows it to pivot and adapt to accommodate most standard faucet styles. However, there are different styles of line faucet extender set for different faucets. To extend gooseneck faucets, they have an H-shaped design to fit a cross section of round-shaped sockets on the top. Meanwhile, standard faucet styles, they have rounded designs for a cross section of the H-shaped socket at the back.
Most of faucet extender has a length of 5.1 inches or 13.5 centimeters. The extra-long faucet extender is thoughtfully designed to bring the water source closer to children, making the process of handwashing both effortless and enjoyable.
The U-shaped faucet extender adeptly collects and directs the water flow closer to effectively reduce splash and prevent water from spreading in all directions. Also, the inclusion of a groove design effectively slows down the water flow which enhances control and prevents excessive splashes of water.
Faucet extender is crafted from materials of the highest quality, utilizing 100% Food Grade BPA free silicone and environmentally friendly PP plastic. These safe faucet extenders help make your children stay healthy.
The U-shaped faucet extender collects the water flow, effectively curbing water splashes and preventing water from scattering in all directions. It's like catching a bowl of water ready to pour into your child's hands. They are also smoothly designed to protect your little one from accidents, cuts, and other discomforts.
I wish I had known this sooner. Since I used the faucet extension, it's been so effortless to make my toddlers and young kids wash their hands and brush their teeth. They are also easy to install and fit securely in place in my bathroom sink or practically any faucet. As a result, they do not require modifications for any plumbing or hardware installation and can be installed fast. For sure, that's a lot of stress taken off the shoulders of parents like me.
Faucet Extender for Kids - Set of 2 Animal Spout Extenders for Sink Faucets - Hand Washing for Babies, Toddlers & Children
Our very active toddlers can never get enough of playing with toys and touching surfaces. And so, frequent washing with water and soap is needed to remove the bacteria and grime. Cleaning time can sometimes become a challenging tug-of-war, hide-and-seek, or crying game with our young ones.
However, ever since I bought these cute and kid-friendly animal spout extenders for our sink faucets, I never had any problem getting my tot to clean up. My toddler is positively thrilled and simply gravitates to this lightweight and delightful faucet extender that comes in two sets of attractive colors – one adorable elephant in blue color and one delightful duck in yellow color. They also serve as toys for their enjoyment. By the way, if you're shopping online for more kid's stuff, also carries educational toys, games, and accessories for kids.
30-day Money Back Guarantee
Should the product fail to meet your expectations, simply return it in unworn condition, and our recommended suppliers will provide a full refund for 100% of your order.
With the added value they give us parents, their prices are all worth it.
Take for example Yihaya's Faucet Extender for Toddlers at only $9.99. If it's your first time to order, you get to enjoy a 10% discount, which is great savings.
All of these are readily available at your favorite online or physical places, such as Walmart, Amazon, or your local children's store. So there's no need to wait any longer. Don't let your kids miss the comfort and happiness they deserve. Their joy is at your fingertips.
What's the best way to sterilize faucet extender?
Improve children's hygiene by maintaining the cleanliness of your faucet extenders. For effortless cleaning, the faucet extender can be easily disassembled, dishwasher-safe, or under running water at 70℃.
It is advised not to sterilize the faucet extender using high temperatures. Instead, use a neutral detergent with warm water for optimal cleaning results.
When should your baby start to use faucet extender?
If your baby's over a month old, faucet extender is just the right one for you and your kids fit.
Best-selling items that customers love
Aside from the various colorful designs of extend faucet, like these duck sink faucet extenders, there are also bathroom accessories available like the cute duck sink faucet extensions which make it safe and easy for our young tots to reach and grab hold of the faucet handles. 
Remember, our young tots are intelligent and can already be trained to wash their hands independently. These faucet extenders add more grip and reachability that make hand washing a fun and confidence-building experience for young kids.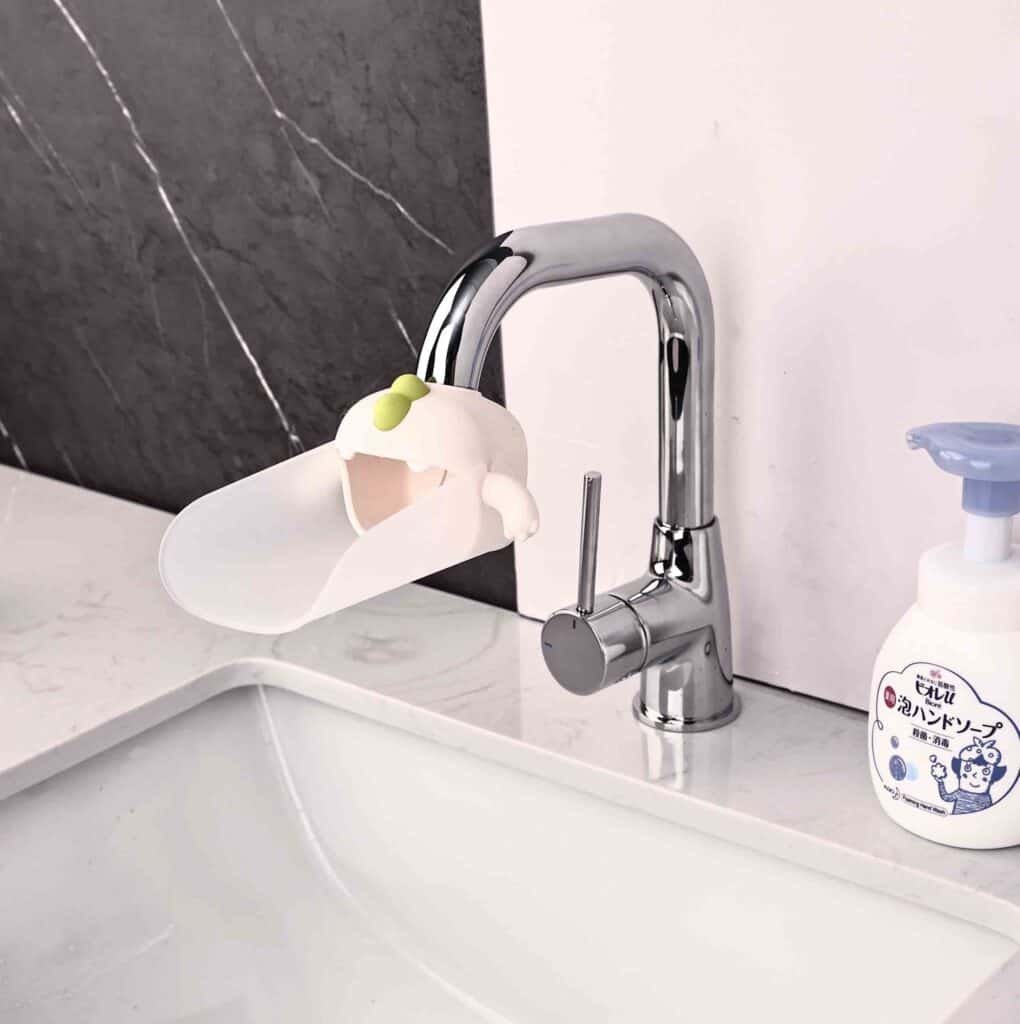 Aside from that, bestsellers include heatflow aerospace-grade baby sleep sacks, aerospace-grade thermostatic baby sleep sack walker, aerospace-grade thermostatic baby swaddle wrap/blanket, ultra soft and absorbent baby bath towel, and noble baby lotion tissues.
These undeniably adorable faucet extenders and faucet handle extenders can be addictive. Thus, you should find a way to make your kiddos stop playing and prevent water from flowing endlessly. That is why adult care and guidance are necessary to keep them disciplined and on the right track.
Avoid Resorting to DIY Faucet Extender for Toddlers
Aside from making your bathroom sink look bad, materials used for self-made faucet extenders, like plastic bottles, etc., are not usually meant for kids' use. They can accidentally cut your child's skin or suddenly come off and cause harm. The little money you can save is not worth it. Let's leave the production of these kid-friendly and environmentally safe devices to the experts.
Keep the Bathroom Sink Area Clear
To ensure the safety of your child, it is essential to maintain an uncluttered bathroom sink area and prevent the floors from becoming slippery.
Have a Ready Step Stool for Your Little One
Though the faucet extender is adequate to help your kiddo reach the bathroom sink, it would be stress-free for them if they are at the same level as the sink, especially if they are not yet tall enough.
The faucet extenders and handle extenders for babies and toddlers are simple and convenient tools that can make hand washing and bath time easier for both you and your little one. It's easy to install, use, and clean, and it reduces water pressure to prevent splashing and makes it easier for little ones to use. With these awesome faucet extenders, your child will grow up to be self-sufficient, responsible, healthy, and happy.