Add a header to begin generating the table of contents
When it comes to choosing a water filter faucet for your home or business, one of the most important factors to consider is the quality and type of material it is made from. Essentially, you'll want to look for a reliable quality faucet that is either low-lead or lead-free.
Lead is a potent neurotoxin that can leach into drinking water from pipes, faucets, and other plumbing fixtures. Long-term exposure to lead can cause serious health problems such as memory problems, high blood pressure, stroke, kidney disease, cancer, and injury to soft tissues and internal organs, especially in infants, young children, nursing moms, and pregnant women. Exposure to enough lead can be fatal.
The past city-wide lead contamination in the cities of Flint, Michigan, and Newark, New Jersey showed us how this health hazard can destroy the integrity of the water system and put thousands of people in a health disaster situation.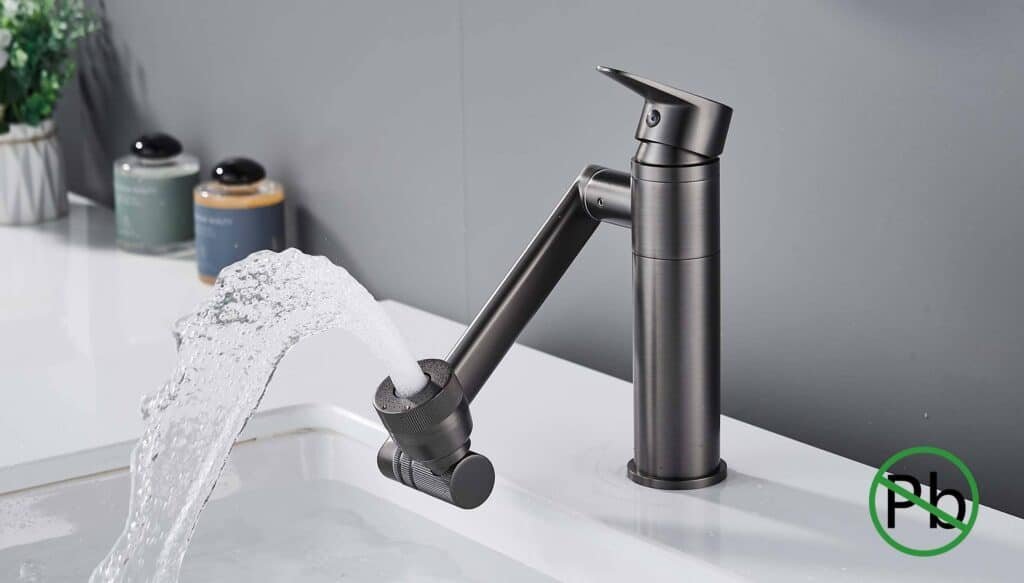 From April 2014 to October 2015, almost 99,000 residents of Flint, MI had a water crisis after the city's drinking water source was switched from the Detroit Water Authority to the Flint Water System. This caused the water distribution pipes to corrode and leach lead and other pollutants into people's drinking water. 
Meanwhile, beginning in 2016, almost 200,000 residents of Newark, NJ were subjected to high levels of lead in their water supply. It was found that some affected neighborhoods in Newark were found to have had over 100-year-old corroded pipes. In low–income areas, there were long-standing faucets and plumbing fixtures that had not been replaced for a long time. This posed a threat to residents as lead leached into the water through corroded lead pipes, faucets, and plumbing fixtures.
The acceptable lead level to the federal government is 15 parts per billion. Newark's lead level rose to a staggering 57 ppb in the first half of 2019, an alarming news that led people to demand the local government to fix their pipes because as the strikers say, "Water is life." They were temporarily supplied with complimentary bottled water, but unfortunately, some bottles had expired. 
According to the U.S. Food and Drug Administration, though water has an unlimited shelf life as long as it is unopened, plastic bottles when exposed long enough to high temperatures, can emit a chemical called antimony into the water. As a result, people who have consumed water bottles in such conditions can suffer from lung and heart problems with this potential carcinogen.
It is wise to learn more about low-lead and lead-free water filter faucets to prevent you from risking your family's health to intolerable amounts of lead exposure and eliminate lead leaching into your water supply.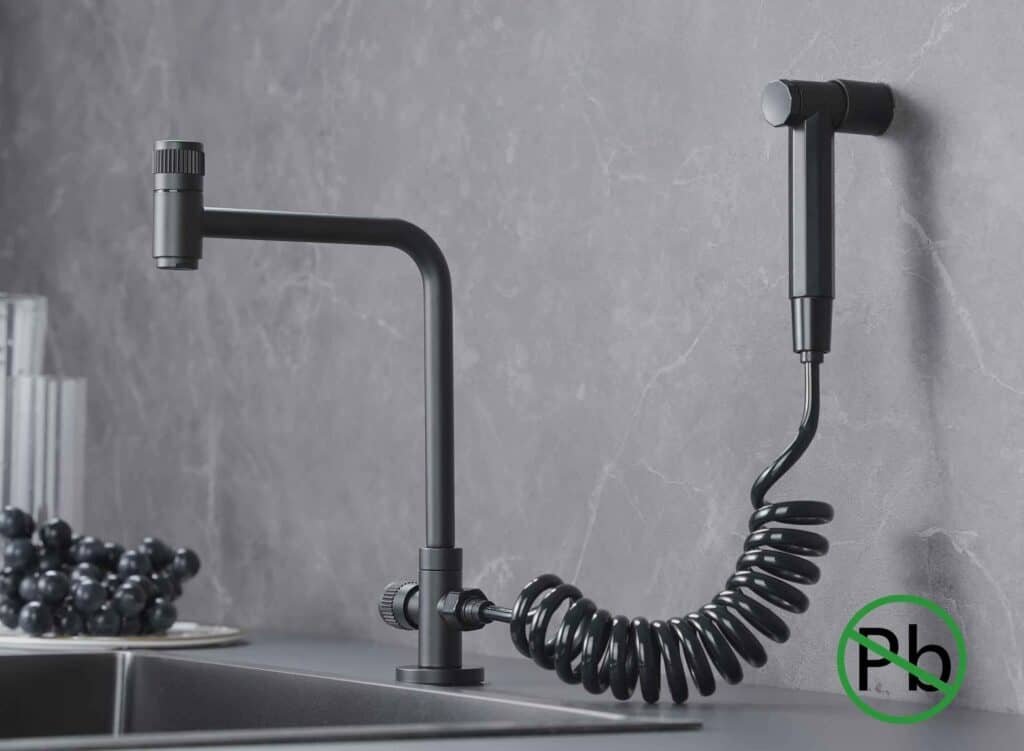 So, what's the difference between a low-lead and a lead-free water filter faucet? And which one is better for your home? Let's take a closer look.
Low Lead Water Filter Faucets
Low-lead water filter faucets are made from materials that contain less than 0.25% lead by weight. These faucets are still allowed to contain some lead, but the amount is significantly lower than older faucets which could contain up to 8% lead.
While low-lead faucets are an improvement over older models, they still pose some risks of lead exposure and the absence of good lead filters. Over time, the small amount of lead in the faucet can leach into the water and accumulate in your body. This is especially true if your water has a high acidity or low mineral content, which can make it more corrosive and increase the risk of lead leaching.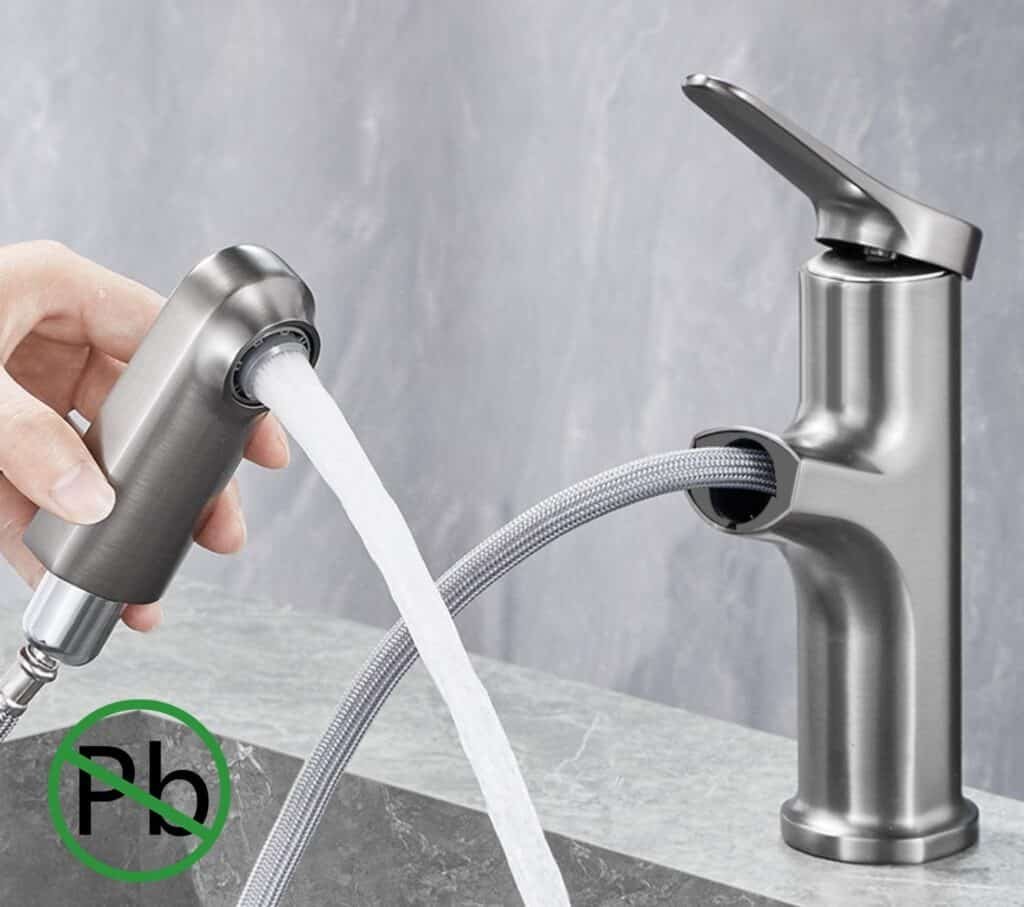 Lead-Free Water Filter Faucets
Lead-free water filter faucets are made from materials that contain no more than 0.25% lead by weight. These faucets are designed to be completely free of lead, which eliminates the risk of lead drifting into your drinking water.
They are a safer choice for your home, especially if you have young children or pregnant women in your household. They are also required by law in certain states, including California and Vermont.
When it comes to choosing a water filter faucet for your home and office, there are several factors to consider. Here are some tips to help you make the right choice:
TIP No. 1: Check the Faucet Material
The type of faucet material matters a lot when it comes to functionality, aesthetics, and safety. They come in various types of materials and finishes: plastic, zinc, zinc alloy, brass, stainless steel, gold, silver, platinum, pewter, and more. Modern faucets are made to withstand extremely abrasive conditions but not all can withstand corrosion and pass the industry's lead reduction standards.
Look for a faucet that is labeled as "low lead" or "lead-free." Avoid faucets that are labeled as "lead safe" or "lead compliant," as these may still contain significant amounts of lead.
Before 1997, the majority of faucets that came out in the market were made of brass or brass that had been chrome-plated. Water resting in the brass faucet for a long time can leak out lead from the interior of the faucet potentially resulting in elevated lead levels in the first draw of drinking water.
These old faucets contain up to 8% lead which no longer meets the 2014 NSF/ANSI 61 standard. This NSF standard allows the addition of lead to metals like bronze and brass, which are used in faucets, icemakers, drinking water fountains, and small valves, as long as the amount of lead in the wetted surfaces is less than 0.25% on average.
Many faucet manufacturers claim to have lead-free faucets, but the only 100% lead-free material in the market is solid stainless steel faucets. They are corrosion-resistant, heavy-duty, easy to clean, and most of all, safe for drinking and cooking.  The non-porous body of stainless steel faucets makes them a hygienic choice, without crevices to trap dirt and bacteria.
TIP No. 2: Use Only Cold Water to Reduce Lead
To get rid of trace amounts of lead in tap water, use only cold water and let it flow for a few minutes before using it. Domestic and drinking water applications use a cold water line to deliver water that is colder than room temperature because compared to cold water, hot water releases more lead from pipes. Lead levels are not decreased by boiling water but may even cause them to rise. The heat corrodes lead and dissolves it into water easily.
TIP No. 3: Consider Your Water Quality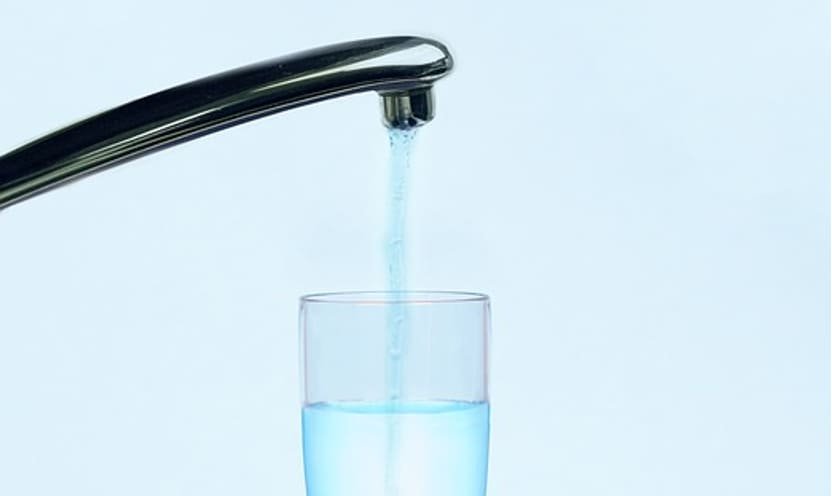 If your water has a high acidity or low mineral content, a lead-free faucet is a better choice. This will reduce the risk of lead seeping into your drinking water. The only drawback with filtered water is the slower water flow than unfiltered water. However, your patience will pay off as the filter's ability to trap lead and other contaminants provides you with safer drinking water.
The U.S. Environmental Protection Agency (EPA) has set a maximum allowable lead level of 0.015 mg/L in drinking water. According to the Federal Reduction of Lead in Drinking Water Act that took effect in January 2014, water is considered good for human consumption if the lead is "not more than a weighted average of 0.25% when used with respect to the wetted surfaces of pipes, pipe fittings, plumbing fittings, and fixtures."
TIP No. 4: Maximize Your Protection with Sound Faucet Filters
There are faucet-mount filters and pitcher filters which can ensure you a safer drinking water supply. When compared to pitcher filters, faucet-mount water filters remove a lot more impurities, last longer between replacements, and provide you with filtered water at the sink whenever you need it.
In choosing the best-performing water filtration systems, the factors to consider are the number of contaminants it claims to remove, the process that can either be carbon block or activated carbon, test certifications, flow rate, filter capacity, warranty, and price.
Following the government's provision of PUR faucet filters to reduce lead levels, the cities of Flint and Newark, both of which experienced water crises, reached the safe drinking water standard for lead content. This water filtration system claims to eradicate 71 types of contaminants that include lead, mercury, pesticides, and other industrial chemicals.
There are compatible replacement filters but they are not a guarantee of the same water quality. So, make sure to use replacement filters that are of the same brand. You can also choose from other equally reliable water filters like Brita, Waterdrop, and other high-quality filters but the final decision is yours.
TIP No. 5: Be Consistent in Maintaining Your Faucet Filter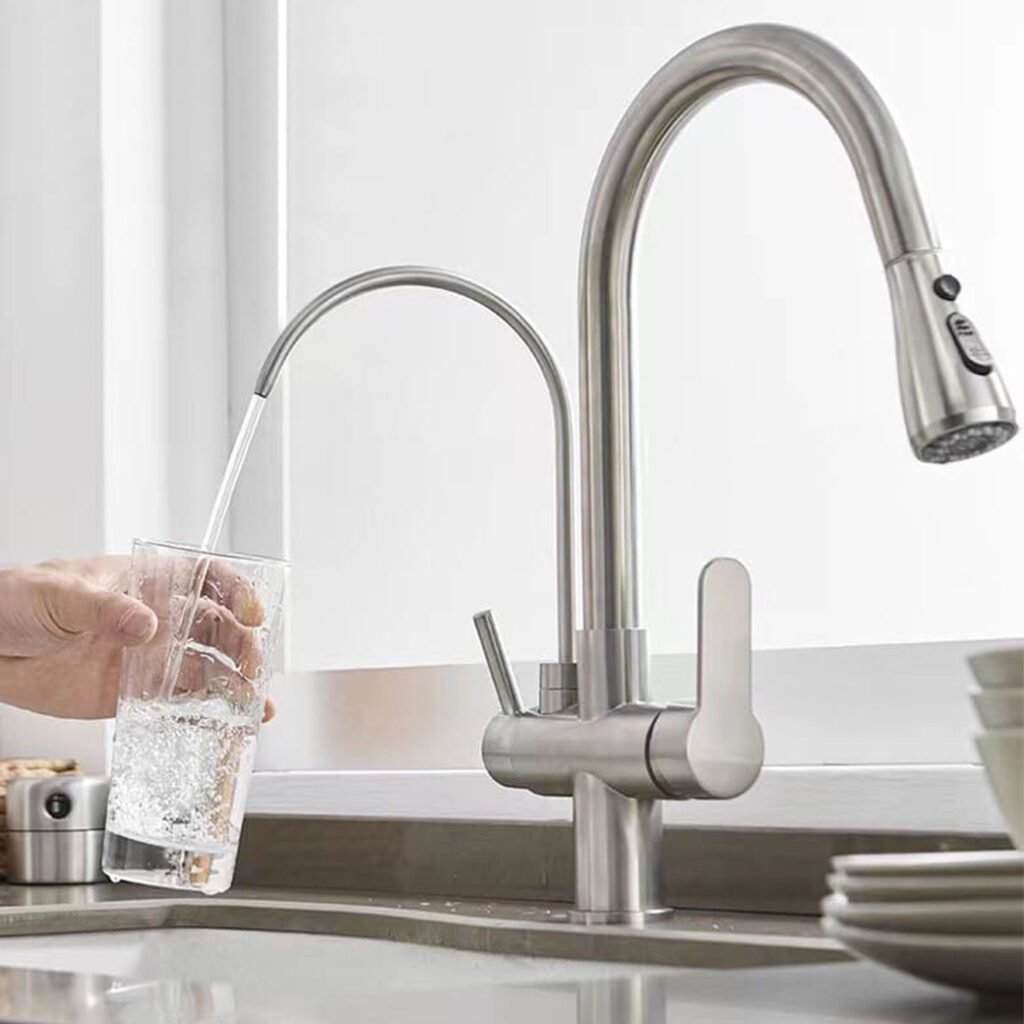 Don't scrimp on replacing your old kitchen faucet filter once it reaches its efficacy limit. Filtering water is a necessity to protect you and your loved ones from ingesting lead into your body. Invest in a sound water filtration system that has undergone several tests proving that nothing can hamper its effectiveness in reducing or obliterating lead in your water supply.
Replacing your filter is very simple and user-friendly as some filtration systems come with a blinking indicator light that tells you if the filter is working and when it's time to replace them.
To ensure that you get quality filtered water at all times, you must ensure a consistent supply of a dependable water filtration system made up of fully functioning filter cartridges and filter housing. Also, annual water testing is recommended. Contact your local drinking water certification officer for a list of certified laboratories.
TIP No. 6: Look for the Certification Marks
As some new faucets do not pass the lead reduction standards, the consumers are at risk of lead contamination and other harmful contaminants. To increase the consumer's buying confidence, the Environmental Protection Agency has ensured that certifying organizations assist the states, drinking water system operators, plumbing contractors, and consumers in effectively identifying the plumbing fixtures that are lead-free certified to avoid further contamination.
Thus, when choosing water filter bathroom faucets, kitchen faucets, and sink faucets that meet health and sanitary standards, look for certification marks on the packaging. This ensures that your newly-purchased faucet has been certified by an independent organization, such as National Sanitation Foundation (NSF), Underwriter Laboratories (UL), Truesdail, CSA Group, IAPMO R&T, Inc, and other reputable certification bodies. 
The certifier's mark is typically located on the front or back of the packaging or engraved on the product itself. This will ensure that the faucet and other plumbing products meet the highest lead reduction standards and requirements of the Safe Drinking Water Act (SDWA).
TIP No. 7: Be Aware of the Latest Updates Concerning Lead Exposure
It is a must to be up to date with the latest news, safety regulations, and guidelines on acceptable lead levels. This will ensure you're on top of everything when it comes to your personal and occupational health and safety.
In recent legislation, effective January 1, 2023, Gov. Gavin Newsom has signed into law AB 100, which prohibits the manufacturing and sale of plumbing devices in California that leach more than 1 μg/L of lead.
TIP No. 8: Think About Your Budget
Lead-free water filter faucets are typically more expensive than low-lead faucets. Whether it be bathroom faucets, kitchen sink faucets, or wherever you need them, consider your budget and choose the best option that fits your needs. But remember that our health must always be our optimum concern.
When it comes to choosing a water filter faucet for your home or office, the choice between low-lead and lead-free is a critical one. While low-lead faucets are an improvement over older models, they still pose some risk of lead exposure and harmful contaminants. Lead-free faucets are a safer choice, especially if you have infants, young children, or pregnant women in your household. 
You definitely wouldn't want to expose them to danger and harm. Each one of us deserves clean, safe potable water. So, as a long-term solution, carefully consider the faucet material, water quality, water filter, faucet certification, latest updates, and budget before making your final decision.